Steam Generation - Water Treatment to Improve Performance and Reduce Risk of Boiler Failure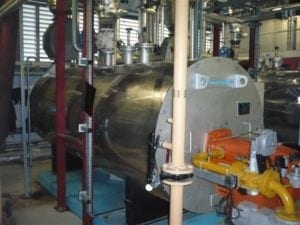 We are widely recognised as leading experts in water treatment control, monitoring and waterside or fireside cleaning and maintenance of steam generation equipment.
This is why leading boiler manufacturer, Babcock Wanson, www.babcock-wanson.co.uk have appointed us as their sole UK partner for pre-treatment and maintenance of systems where their boilers are installed.
We have particular and specific expertise in the water treatment of coil boilers or steam generators and are the pre-eminent company in the UK, dealing with these systems.
Our technical knowledge, track record and extensive experience in the treatment of steam systems is second to none.
We have over 25 years' experience working on Babcock Wanson steam production equipment and are unrivalled in our knowledge and understanding of how these systems work to produce steam.
We work in partnership with many companies across the whole industrial and commercial spectrum including areas such as speciality food production and pharmaceuticals, where the highest levels of performance and knowledge are required. We have conceived and developed an innovative range of low-toxicity chemicals for steam and condensate line treatment, with USFDA approved constituents, suitable for direct steam contact with food products.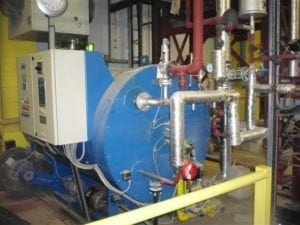 Steam plants can be rapidly affected by oxygen, acidity or contaminants in feed water. If scale is allowed to build up, performance rapidly decreases and this can lead to catastrophic failure.
If pitting corrosion, due to oxygen ingress or grooving attack due to carbonic acid degradation of condensate return pipework, is allowed to take place, then failure is often the final outcome.
We routinely install and maintain pre-treatment plants to soften or demineralise water and adjust pH levels. Within the boiler, as pure water evaporates into steam, levels of dissolved solids increase and this can lead to foaming and carryover. Boiler blowdown reduces the concentration of these solids, so effective management can reduce the amount of blowdown, saving water and costs of disposal.
We supply both traditional and advanced USFDA conformant condensate line treatment programmes to minimise corrosion, and extend the life of return line systems.
We have many "all volatile" or low solids speciality water treatment chemicals available on our extensive product range, for use in high pressure boiler systems or where local conditions allow in lower pressure systems.
Our trademarked steam generator water treatments chemicals are bespoke and formulated to meet the exact requirements of coil boilers or steam generators.
Our customers also like what we do;
"Deep Water Blue have worked with Rayner to provide support for the plant steam system at our newly constructed facility in Worthing.  Deep Water Blue and in particular, Mick Casey, have provided an extremely professional, attentive and thorough level of service throughout our start-up and commissioning phases, which have required varying demands on our plant steam system.
Deep Water Blue have given us great confidence as a partner by demonstrating in depth knowledge of steam system chemistry and balance and the ability to apply that specifically to their partner, Babcock Wanson's equipment.  This has provided tangible benefit to Rayner and helped improve service continuity and operational cost savings."
Alan Davies
Head of Facilities
Rayner Intraocular Lenses Limited
We carry out our treatment programmes in compliance with relevant standards such as BG04 Boiler Water Treatment Guidance for shell boilers, coil boilers, steam generators and hot water boilers 2016 and BS2486: 1997, "Recommendations for treatment of water for steam boilers and water heaters."
We are listed at the CEA Academy of Experts and at the Royal Society of Chemistry Directory of Consultants.
We routinely carry out expert investigative work with respect to boiler failures and produce technical reports relating to these investigations for clients.
We have developed our own unique on-line steam reporting system called vSteam® - it will revolutionise how you look after your steam plant – click on the link here or simply call us on 0870 460 2980 for an on-site demonstration.
To discuss your own requirements for water treatment for steam generation, please call us on 0870 460 2980.