Water Sampling in Commercial and Industrial Heating, Cooling, Steam Production, Process, Domestic and Waste Water Systems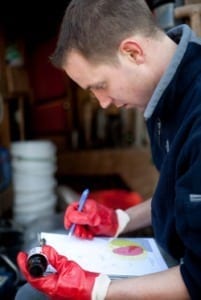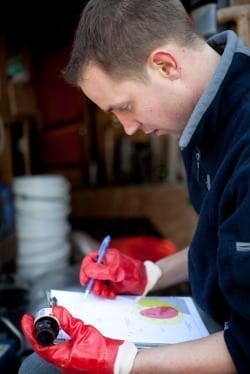 Effective water treatment relies on accurately diagnosing the condition of water systems. As part of an initial survey, we can take samples and conduct immediate waterside analysis on-site, producing colour-coded reports via our portable printers and laptops, which highlight areas of concern. For ongoing system management and consultancy, we carry out tests at regular intervals, recording all results and remedial actions. These tests are often carried out on a service contract basis at regular intervals to suit either documented or client requirements.
We also regularly carry out system testing related to production of a risk assessment to meet the requirements of HSG274 or BG04 for example.
If, however, you would like to carry out your own site testing, then Test kits and training in the use of these kits are available for your own operatives if required.
On-site testing as part of an ongoing service and monitoring package can be further supplemented by additional analysis, as required, in UKAS approved laboratories. Typical additional types of testing that can be undertaken include metal analysis, spectrophotometry, microscopy and microbiological inspection.
Microbiological tests will detect the presence of all water-based bacteria, yeasts, moulds and fungi, typical examples being:
Legionella(Sp)
Pseudomonas(Sp)
Coliforms and E. Coli
Sulphate reducing bacteria (SRB)
Nitrite reducing bacteria (NRB)
Chemical tests will detect the presence of such parameters as iron, copper, manganese, total dissolved solids, suspended solids, turbidity, chloride and pH.
We also regularly carry out analysis of private water supplies, such as boreholes or springs, where these water sources are being used as drinking water supplies or in the production of foodstuffs, such as whiskey, for example.
As part of our consultancy offering in these situations, we are often asked by clients to advise on solutions to improve the quality of private water supplies, in order to make them more usable.
We provide detailed system reports and are able to specify, build and install/commission bespoke water treatment plant and equipment solutions for private water sources, or indeed any application.
To discuss the types of system testing, that we could carry out to optimise your system performance, call us on 0870 460 2980