TreatedWaterTechnologiesandPre-treatmentPlant
Traditional & Membrane Filtration Systems
Units are available for the removal of suspended solids, iron, manganese, dissolved gases, odour, taste, organic contamination and pH correction.
Vessels can be configured in simplex, duplex/duty standby, triplex and 4 filter configurations. Throughputs of up to 300 m3/hr are possible on our standard range. Microfiltration and Ultrafiltration units are also available.
Deep Water Blue Ltd. filtration systems either have a high quality, multifunctional microprocessor controller to control all functions of the plant and ancillary equipment, or a manually operated control system.
Reverse Osmosis Systems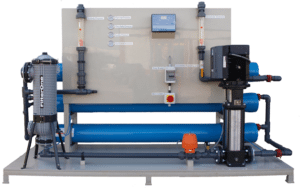 Deep Water Blue Ltd. reverse osmosis units produce de-mineralised water from tap water, brackish water and boreholes, for a wide range of applications. Our range covers flow rates from 0.1 to 300 m3/hr and utilises high efficiency, state of the art membranes.
RO systems are now widely replacing more traditional processes such as de-alkalisation, de-ionisation, distillation and exchange cartridge type processes.
Correctly engineered, reverse osmosis gives very low rejection rates.
If coupled with nano filtration units on certain water quality waters, recovery rates can be as much as 90% especially important in boiler house applications
Water Softeners
Deep Water Blue Ltd. produces a wide range of water softeners, which use the ion exchange process to remove calcium and magnesium salts. The units are configured as simplex, duplex or triplex systems, to suit the customers' requirements.
In the standard range, capacities vary from 10 to 328 m3 at a total hardness level of 200 ppm, and maximum flow rates of 100 m3/hr. Oversize special units can also be provided.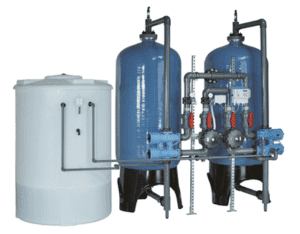 De-ionisation Systems
Deep Water Blue Ltd. manufactures a variety of units for the production of pure and ultrapure water, both normal configuration and counter current, with capacities of 0.5 - 50 m3/hr. Higher capacities are available on request.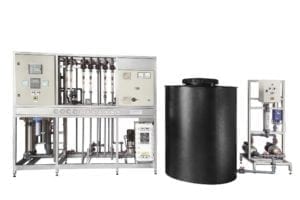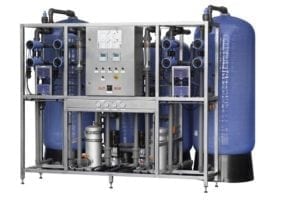 Other Ion Exchange Technologies
These Include:
De-alkalisation Systems- To remove bicarbonate alkalinity
Nitrate Removal- To remove the increasing problem of Nitrate in Water
Organic Scavenging- To remove contaminants such as fulvic and humic acids.
To Contact Us
Should you require any further information on any of the above processes, product ranges or would like a site visit to discuss your requirements please contact us on 0870 460 2980 or mail to info@deepwaterblue.co.uk